Big Spring Jumble Sale
Swimming Gala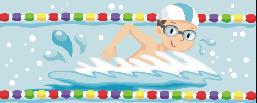 At the end of November a team of beavers, cubs and scouts took part in the Orwell district swimming gala.
With lots of cheering and encouragement the children all did their best. With a special mention to Edward and Grace who did very well and also to Ruby and Mason who helped make up enough numbers for the cubs relay race.
Being a bit low on scout and cubs numbers Kirton did not manage to enter every race and therefore had no chance of gaining top points overall. But a fun evening was had by all. Well done everyone.
40th Birthday and AGM
On 17th October 1st Kirton held their 40th anniversary party and AGM along the theme of past, present and future.
Past: There were displays and albums of old photos from previous years and it was fun to see some that were young scouts and are now leaders and see how others have moved up through the ranks. On display also were old uniforms and camp blankets. See how young the leaders looked then.
Several previous leaders also attended and it seemed everyone was pleased to catch up with old friends.
Present: this included the AGM, along with the section reports detailing the activities the sections have enjoyed this year.
Future: we got to hear about the plans for the new scout hut which will hopefully will be built soon. But there is still lots of fund raising still to do.
.
There was also a desperate call for committee members as it is compulsory for scout groups to have a complete executive committee consisting of chairperson, secretary and treasurer etc and currently we have vacancies.
If you would be able to help out in any way at all please contact us or speak to one of the leaders.
.
To commentate the 40th birthday everyone in the scout group this year has been given a limited edition group badge to be worn on the back of the scarf.
.
Bear in the Air – Landguard Fort
1st Kirton Scouts had an exciting day at Landguard Fort on Saturday 12th October, along with many other Scouts, Explorers and leaders from Orwell District when Bear Grylls, the Chief Scout, called in to visit as part of the "Bear in the Air" tour for the East of England.
Bear's helicopter landed at Langer Primary Academy and he, and his family, were transported the short distance to Landguard Fort in a fire truck.
There are more photos in our gallery and a report and photos on the Orwell District Scouts website.
.
Jumble Sale 12th October 2013
It's nearly time for our October Jumble Sale. Scouts will be collecting jumble in the village on the evening of Wednesday 9th October and the Jumble Sale takes place on Saturday 12th.
If any parents can come along to help, either collecting on Wednesday, setting up Saturday morning or at the jumble in the afternoon it would be much appreciated. The more help the better.
Our Grand Draw also takes place at the Jumble so hurry up and buy those tickets. There isn't much time left.
Beach Watch 2013
On Saturday 21st September several Scouts, Cubs and Beavers took part in the annual Beachwatch Big Weekend and helped to collect litter along the shore in near the Trimley Marshes Nature reserve.
They managed to fill several bags of rubbish and left the shore looking much tidier than before they started. And I think they even had fun doing it.
Thank you to all who came along and helped.
.
Moot 5 – Suffolk Scout and Guide Camp – August 2013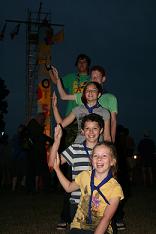 August bank holiday weekend saw a small part of the Bentwaters air base overrun with Scouts and Guides from all over Suffolk for Moot 5.
The camp was divided into subcamps and Orwell district, including 1st Kirton, were in subcamp Spitfire.
The weekend started with an opening ceremony which included the painting of some cardboard tubes which slotted together to make a 40ft high rocket tower and this was followed by a disco.
Activities over the weekend included shooting, archery, cascade slide, zip wire, zorbs, aerial runway, abseiling and free fall abseiling, to name just a few.
There were also some more gentle pursuits in the craft tent for those wanting to take it a bit easier or needing a rest. Some very nice glass etching was done and friendship bracelets and survival bracelets were made.
The scouts were also able to see the Grace Spitfire flying and watch the Moots Got Talent competition.
The weekend finished with a closing ceremony after which the tents were all packed away and the scouts and guides were collected to go home and rest and recover. We expect all the leaders needed to rest and recover too.
Felixstowe Carnival – August 10th
Scout Community Week – Updates
Back in June the scouts started their community week project by painting part of the fence at Falkenham Church.
Unfortunately there wasn't time to complete the painting all in one go so last night they went back to finish the job.
With the project now complete the scouts were awarded with a badge which they can wear on the activity arm (left) of their uniform.
And not only was the fence covered with paint by the end of the evening but so, also, were several of the scouts.
LATEST UPDATE: 1st Kirton Scout Group have, very kindly, been presented with a cheque for £75 from Falkenham Parochial Church Council for their work on painting the fence. This will be shared between the group and the national Scout fund to help disadvantaged children get involved with Scouting. Thank You.

Chief Scout Bronze Award
During our Group Family Camp one of our Beavers, Mason, was presented with the Chief Scout Bronze award which is the highest award available in the Beaver Scout Section.
It is gained by completing all six Challenge Badges.
Well done, Mason.
.